You are in search of the perfect sports bar where you can settle down with your friends, be as loud as you want and enjoy the action on the court as it unfolds? London has a helluva lot of excellent sports bars, from intimate pubs to lavish sports bars with big HD screens wherever you look. We've picked our top favourites below.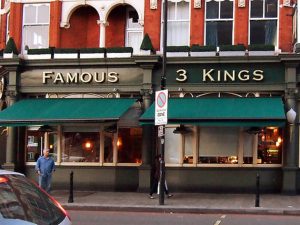 #1 The Famous Three Kings.  Located on 171 N End Rd, London W14, in the heart of west London, this is a pub for serious sports fans. The kind of fans who make sure to bet on their favourite team before heading to the pub to enjoy a match. The kind of fans that look for the best odds online and the most advantageous bonuses, which certainly increases their winning chances.
People come to the Famous Three Kings to watch live sport, and they sure do watch lots of it here. Football from all big European leagues is on top of the list, but fans of other sports will also enjoy hanging out here with their friends, as rugby, boxing, F1, handball, ice hockey and many more are also broadcast on the screens, so nothing gets overlooked.
The venue shows big matches across all types of sports and is not associated with any particular team or club. Games are shown on three big screens, 13 plasma screens and two 3D TV screens and the bar has access to over 71,000 TV channels.  Up to 14 different games can be shown at the same time, with six different commentary areas.
Besides that, there is a good range of beverages available, along with pizzas, burgers, sandwiches and sides to celebrate accordingly.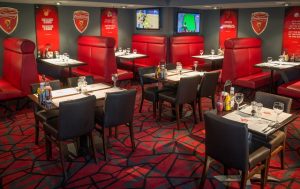 #2 Riley's Sports Bar Haymarket is one of the oldest established sports bars in London and one of the largest such venues, able to accommodate no less than 600 people. It has thirty-seven HD screens and four giant HD projectors with access to more than 70 sports channels showing sports from around the world.  
And it's one of those places where you can watch sports while you play sports, as it also features darts, pool and ping pong tables to keep the customers entertained in the quieter times.  Additionally, it has 4 bars, a restaurant and a Players` Lounge with its own bar, 3-metre HD screen, 3 plasmas and all the essentials for a meeting. 
When it comes to the food menu, customers can indulge in burgers, hot dogs, chicken wings, racks of ribs, potato skins, pulled pork wraps and pizzas.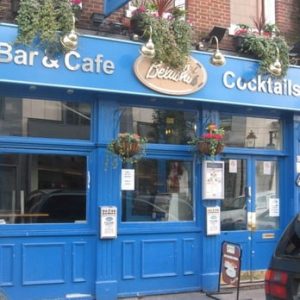 #3 Belushi's – This is not a single bar, but a chain of sports bars across Great Britain. In London, there are six Belushi's, in Covent Garden, Hammersmith, Greenwich, Shepherd's Bush, Camden and The Dugout at London Bridge. The latter one is our favourite.
The venue has got many large, state-of-the-art screens to watch and cheer up your favourite team, along with a projector for the big games. Visitors can enjoy the major football matches, but also other international sports like Rugby Union, Rugby League Champion's League, Premier League, NFL, AFL, Basketball, NBA, Tennis, Cricket, Golf, Basketball, F1, and so on.
What's also important for sports fans is that they offer a large selection of international bottled and draft beers, ciders, spirits, wine and cocktails.